A collection of Vietnamese ao dai and India sarees was shown at a fashion show held at Ho Chi Minh City's War Remnants Museum on October 16.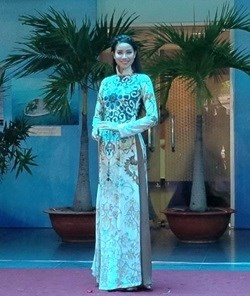 Vietnam Miss Universe 2015 Pham Huong performs at the Ao Dai and Saree. (Source: VNA)
Ao Dai and Saree – An Ever Unbreakable Friendship, organised by the Indian Consulate General of HCM City and the Ao Dai Museum, was held to celebrate Vietnam Women's Day.
The catwalk event featured more than 50 designs made with high-quality materials.
Nearly 20 elegant and charming designs of sarees in bright colours were presented by women of the Indian community in HCM City.
Vietnamese models wore ao dai offered by designers at the Ao Dai Museum. The costumes were made of silk and voile decorated with printed images of flowers and sparkling details.
Vietnam Miss Universe 2015, Pham Huong, was invited to perform on the catwalk in both saree and ao dai. Vietnamese supermodel Duc Hai also paired with Huong in the ao dai catwalk.
The event also included singing and dancing performances by Indian artists, as well as Vietnamese war veterans and famous singer Nguyen Phi Hung.
Smita Pant, Consul General of India in HCM City, said the show was expected to encourage the young generations of India and Vietnam to learn more about their traditional costumes, and to preserve and promote them.
She said the collections would open for another fashion show in December, organised by famous ao dai designer Si Hoang, who will present Vietnamese costumes made of Indian traditional fabrics.