A scientific data file on the Trang An Tourism Complex in the northern province of Ninh Binh has been submitted to UNESCO, for recognition as a world heritage site.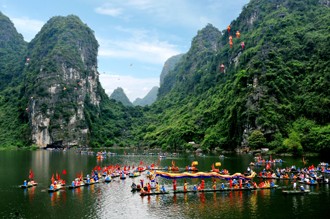 Trang An Historical Site
Trang An Historical Site covers an area of around 10,000 hectares, including Hoa Lu Ancient Town, which was the country's capital more than ten centuries ago; and the Tam Coc-Bich Dong Tourist Site and Trang An Ecological Site.
The region is scattered with karst topography such as limestone mountains, lakes, hundreds of valleys and caves. The site is home to diverse fauna and flora with 500 kinds of flora, 73 kinds of birds, 41 kinds of other animals. Scientists found traces of early people dating back 5,000-30,000 years. (Internet)

The scientific data file will be completed and sent to UNESCO before September 30. The final result will be announced in 2014.