Like many other war artists, painter Trang Phuong was holding a pen and a gun at the same time while he was actively in combat.
"I was luckier than many of my teammates after surviving fierce battle and hence feel responsible for recounting the deeds of my dead comrades, record historical events and the glorious struggle of the nation. I hope that through my pictures, future generations understand and respect the great loss of their fathers and elder brothers and value the peaceful life they have today", said Phuong.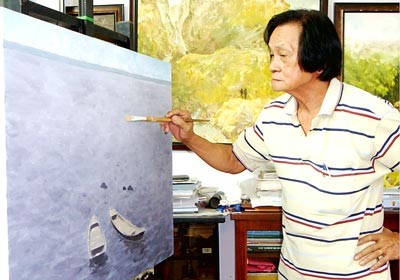 Artist Trang Phuong at the age of 73 still works hard in his studio at home(Photo: SGGP)
Born in Binh Duong Province in a patriotic family, Phuong participated in revolutionary activities since the age of 16.
After graduating from Artists' College in Binh Duong, he studied in the National School of Fine Arts in Saigon.
In 1962 he was one of the first artists to participate in Revolutionary Room Paintings for the National Front to liberate South Vietnam. He participated in major guerillas campaigns such as Phuoc Long-Dong Xoai in 1965, the raid against Junction City and the Tet Offensive in Saigon in spring of 1968.
Artist Trang Phuong traveled around the southern battlefields and most of the notes, the works and his paintings were associated with the war against America: Troops rushing across the Dong Thap Muoi, a peaceful moment in the Cu Chi underground tunnel or beautiful pictures of Truong Son moonlit night.
The Painter also pictured images of our army and people building the Ho Chi Minh Trail to prepare for a major offensive, image of North Vietnamese soldiers crossing the jungle streams to battle in Tay Nguyen Highlands, etc.
56 large oil paintings and over 100 sketches were made directly on the battlefields and displayed in many exhibitions.
In 1974, Trang Phuong was sent to study at the Academy of Fine Arts in Bulgaria and became one of the first doctorates of fine arts in Vietnam in 1979.
Returning to Vietnam, he held key positions in the field of art and culture such as at the VN Institute of Fine Arts, deputy general secretary of Fine Arts City, deputy head of Ideology and Culture section in HCMC Party Committee, Secretary of Party Group and Vice President of the Union of HCMC Literature and Arts Association.
By 2006, after retirement, he continued to concentrate on painting. Memories stay with him of fire and smoke in times of bombs and bullets, a time not to forget but to create dozens of works on the revolutionary war.
"The image of wartime hardship cannot fade, so I'm still painting," artist Phuong expressed his sentiments.
Until now, the artist not only works on beautiful homeland pictures but hundreds of sketches of war time as well. Now at the age of 73 he still works hard in his studio at home.
At present, much of his energy is devoted to the works of the legendary Truong Son Road.
The sketches and paintings of Dr. Phuong are now stored at the Vietnam Museum of Fine Arts, Museum of Fine Arts in Bulgaria and the Ho Chi Minh City Art Museum.