More than 160 antiques dated from the Nguyen Dynasty in the 19th century are on display at the National Palace Museum of the Republic of Korea as from Nov. 8.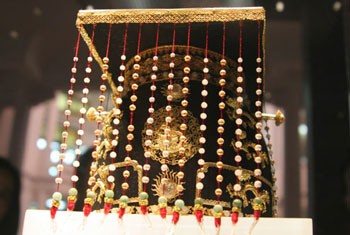 Imperial gold cap of the Nguyen dsnasty. (Photo: Vnexpress)
The event is a joint effort between the RoK's National Palace Museum , and Vietnam 's Hue Royal Antiquities Museum , Hue Monuments Conservation Centre and the Vietnamese Embassy in the RoK.
Addressing the opening ceremony, Vietnamese Ambassador to the RoK Tran Trong Toan said the display will help boost the understanding between the two countries.
The RoK National Palace Museum 's Director, Chang Jong-soo, stressed the significance of cultural exchange to study the cultural values and similarity between the two countries.
He said the event offers Korean people rare chance to understand more about old royal families' life in Vietnam .
Talking with a Vietnam News Agency correspondent in Seoul , Phung Phu, Director of the Hue Monuments Conservation Centre, said the two sides have spent five years on preparations for the display.
With cultural values in architecture, festivals, art performances, traditional trades, and gastronomy, the Hue ancient city was recognised by UNESCO as a world cultural heritage site.
The exhibition lasts until Feb. 16, 2011 and then will move to Gyeongju imperial city for another display from Feb. 28-May 15, 2011.