Cafes are a part of the Ho Chi Minh City scene, patronized particularly by youths. But things are looking down for this cultural institution.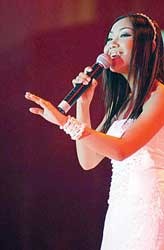 Singer Doan Trang performs at a cafe on Hai Ba Trung Street, HCM City. (Photo: SGGP)
A major reason is that many of the shops, especially in the downtown area, are giving way to office buildings, rents for which are soaring as the city increasingly integrates with the global economy.

Popular coffee shops like M & Toi, 2B, and Song Nhac have had their premises taken away by the owners.
The cafes' owners are reportedly tired of looking for new premises in the last two years. And Mr. Tuan, program editor at Song Nhac, says: "Customers like to come to coffee shops in districts 1 and 3 and enjoy music. If you open elsewhere, you may fail."
ATB, for instance, lost its premises and moved to a new place on Nguyen Van Troi Street in Phu Nhuan District. It is now open only Thursdays through Sundays.
In face of the dwindling clientele, Anh Tuyet, a singer and ATB's owner, says, "I am despondent."
On rainy evenings, when there are even fewer customers than normal, ATB and other cafes simply have to cancel their shows. "I have often been informed of a show cancellation while on the way to perform," singer Pham Phuong says.
Despite their best efforts, including signing popular singers and improving the quality of music, many coffee shops still fail to break even.
As a result, their numbers are declining alarmingly. ATB, Dong Dao, Khong Ten, An Nam, Tieng Xua, Yesterday, and Van Nghe are some of those managing to survive, but barely.
"Like live shows, coffee shops offering music appear to have reached saturation," singer My Hanh, who owns 2B, says.
Last but not least are the high prices that have made the cafes less attractive. Food and drinks are expensive while customers also have to pay a cover charge of anything between VND50,000 and VND200,000.