The entrance to the Spring Flower Festival 2012, being held at the Tao Dan Park in District 1 in Ho Chi Minh City, is decorated like blue waves moving up and down, bringing visitors nearer to the Truong Sa Island.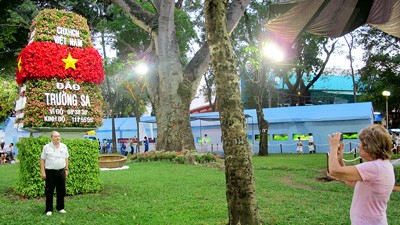 Foreign visitors take photos under a replica of the Truong Sa sovereignty landmark at the spring flower festival. (Photo: Sggp)
The Spring Flower Festival 2012 is themed on the Truong Sa Islands with a replica of its sovereignty landmark made from hundreds of flower baskets. The 6m high landmark carrying the words "The Socialist Republic of Vietnam" and Vietnam's red national flag with yellow star is surrounded by small fishing-boats.
The ground around the replica is covered with white stones and fossil shells collected from the archipelago, along with an S-shaped map of Vietnam made from 4,000 quartz stones.
Thanks to soldiers who protect the sovereignty of the archipelagos of Hoang Sa and Truong Sa, we have a chance to enjoy the beauty of nature at the colourful Spring Flower Festival in a peaceful and happy environment during Tet, said the organization board of the HCMC Park and Green Tree Company. The company has offered 66 yellow apricot trees as Tet gifts for Truong Sa soldiers.
Truong Sa has come nearer to the mainland with such cultural activities organized throughout the country themed on the islands.
The festival also presents to viewers imitations of Mot Cot Pagoda, Ngo Mon Gate and Nha Rong Harbor representing the North-Central and Southern regions.