Local singer Tung Duong won the "Singer of the Year" title at the sixth Cong Hien (Devotion) Music Awards 2010, organised by The Thao & Van Hoa Newspaper and the PR consultancy firm Le & Brothers Limited in Ho Chi Minh City on April 5.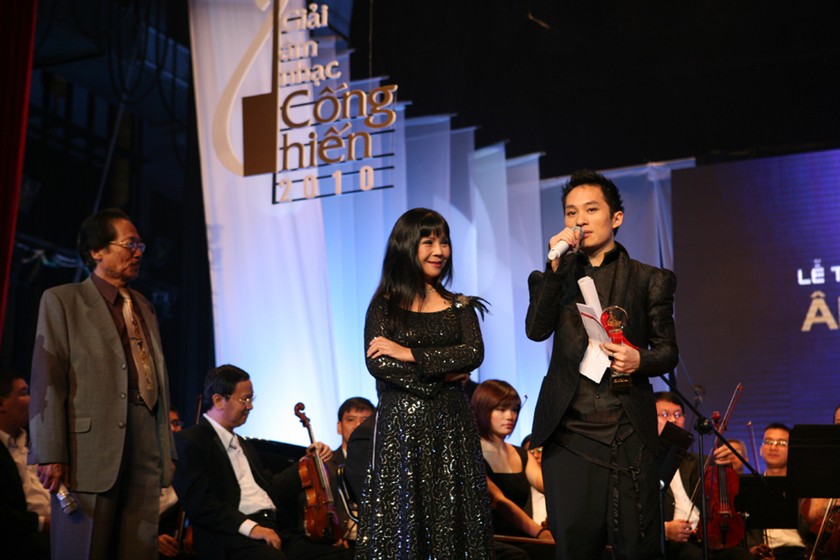 Tung Duong (1st R) winner of "Singer of the Year" and "Album of the Year" awards.(Photo:T.Huong)
He also took the award for "Album of the Year" for his Li ti (Tiny) album, receiving high accolades from critics.
Li ti combined Western music with tones of Vietnamese traditional music in a mellifluous and harmonious way.
Other contenders for album of the year were Bay Gio … Bien Mua Dong (Sea in Winter at Present) by Duc Tuan; Bo doi (Foot-Soldiers) by Thai Thuy Linh; Cocktail by Anh Tuan and Nhung Tinh Khuc Phu Quang (Phu Quang's Love Songs) by Tan Minh.

The Television programme "Viet Nam Idol" was awarded "Program of the Year" and was chosen for the award over Dieu Con Mai (Lasting Forever) by VietNamNet, Sao Mai-Diem hen (Morning-Star-Rendezvous) by Viet Nam Television, Yeu (In love) by Thanh Lam and Tung Duong, and Ngon Lua Cao Nguyen (Highlands' Flame) the final performance by People's Artist Y Moan.

The late People's Artist Y Moan's moving live-show, "Ngon lua cao nguyen" (Highlands' Flame) received a campaign medal at the ceremony.
Le Cat Trong Ly, composer of Chenh Venh (Unstable), received "Musician of the Year" award.
The management board said it was the first time a symphony orchestra had performed at an awards ceremony in HCM City.
Singer Thai Thuy Linh entertained the audience with a mesmerising rendition of Ho Keo Phao (Chant of the Artillerymen). Linh sang the song accompanied by a 20-person choir.
Several nominees for yesterday's awards also performed at the ceremony.
Uyen Linh sang Take Me to the River, the song that catapulted her into a household name at the Viet Nam Idol contest last year.
Tung Duong sang Giang To (Spin webs) from his album Li ti, while Anh Tuan performed Don't Turn the Music Down from his album Cocktail, for the first time on stage.
50 journalists from Ha Noi and 53 from HCM City on March 24 and 30 respectively voted the event's four award categories.
The Le Bros Co and the Caviar de Duc brand sponsored the awards ceremony.
Some pictures of the awards ceremony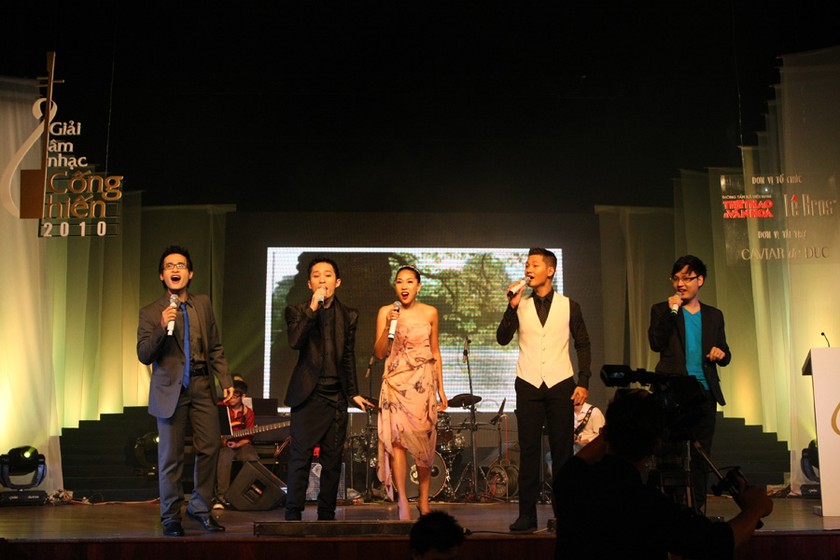 Singers inaugurate the ceremony. (Photo:T.Huong)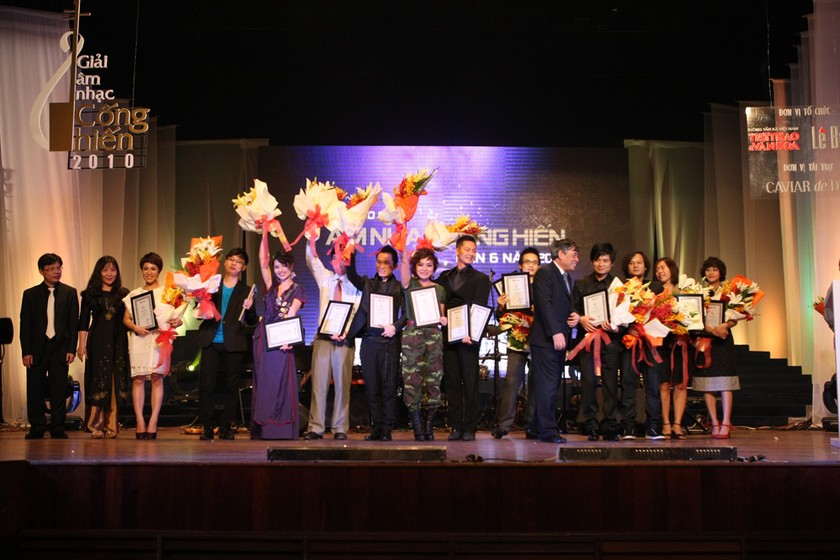 Management board offers flowers to the nominees.(photo:T.Huong)