A special television program to mark the 65th anniversary of War Invalids and Martyrs' Day (July 27) will be broadcast live in Ho Chi Minh City, as well as Quang Nam, Thai Nguyen, Ha Tinh and Tay Ninh Provinces on July 22.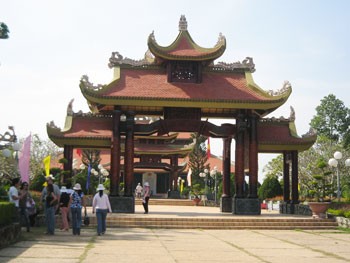 Ben Duoc Temple in Cu Chi District of Ho Chi Minh City (Photo:KK)
The program will present to audiences photographs and documents on the volunteer youth force during war time, journey to find martyrs' remains, work and daily activities of wounded soldiers, and martyrs' families and soldiers who are working on the island.

The program is meant to be a tribute to martyrs and wounded soldiers, and for providing exchanges with historical witnesses during war time, Vietnamese heroic mothers and heroes of the People's Armed Forces.

The program will cover Ben Duoc Temple in Cu Chi District in HCMC; Martyrs' Cemetery Hill 82 in Tan Bien District of Tay Ninh Province; Victory Statue in Nui Thanh Dsitrict of Quang Nam Province; Hung Son relics in the mountainous district of Dai Tu in Thai Nguyen Province; and Dong Loc T-junction relic site in Ha Tinh Province.