TV audiences are now bored to death with an abundance of uninteresting TV reality and game shows in almost all the channels in the country.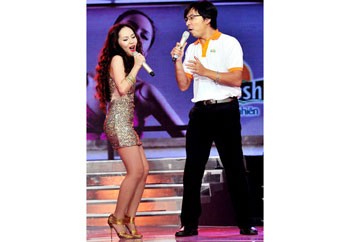 Phuong Linh (L) and Dinh Tien Dung, hosts of a talk show on VTV3 channel, performing in Cap doi hoan hao (Just the Two of Us) (Photo: SGGP)
TV stations are so focused in raking in huge amounts of money in advertising that they have become indifferent to viewers needs.
Ho Chi Minh City Television (HTV) was the first leading station to offer numerous programs such as Rong Vang (Golden dragon), Truc xanh (Green bamboo), Hugo, Chung suc (Teaming up), Di tim an so (Looking for the unknown) and Hat voi ngoi sao (Singing with the stars).
The shows attracted huge audiences and raked in big profits from advertising. However they gradually lost their appeal and even the quality of the shows began to deteriorate.
HTV then selected high-quality shows and refused to broadcast any programs that were either controversial or scandalous for audiences.
Reality shows including Buoc nhay hoan vu (Dancing with the stars), Vietnam Next Top Model and Cap doi hoan hao (Just the Two of Us) have been broadcast by Vietnam Television (VTV) on prime time, after unsuccessful negotiations with HTV.
The programs have lured large numbers of audience. Many enterprises spent a lot of money on advertising on these shows. On the other hand, the shows have also been very controversial.
Many forums have discussed the insensitivity of the judges on the shows Cap doi hoan hao (Just the Two of Us) and Vietnam Next Top Model.
TV stations have to take responsibility for their programs as well as keep in mind viewer's response.