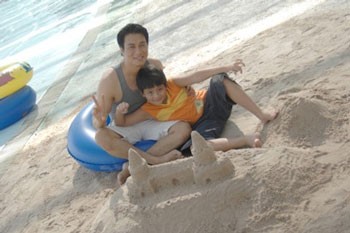 Actor Viet Anh and little actor Hien Lam take roles of the father, Nam, and 7 year-old son, Bo. (Photo: VTV)
The favorite "My loving children" TV show that not only entertains but educates young viewers has been adapted into a 52-episode TV series by the channel 3 of the national television
.
The show was one of the most highly regarded children's programs of 2009, aired on VTV3.
For the film every 7-minute episode contains interesting and exciting stories about Bo, 7 year-old little intelligent boy and his father, Nam, offers methods to teach children.
The series will begin broadcasting at 7.55 pm this Sunday on VTV3 and repeat on VTV1 at the same time on following Saturday.