According to a report, the former USSR trained around 52,000 Vietnamese experts and officials in various fields. Decades later, both Vietnamese former students and their Soviet teachers recall a fond relationship, which was documented in a Vietnam Television (VTV) program on Jan. 17.
The show, titled "Soviet teachers and Vietnamese students," reunites some of the educators and pupils, focusing on shared memories and feelings of gratitude between both parties.
Former students grateful to Soviet teachers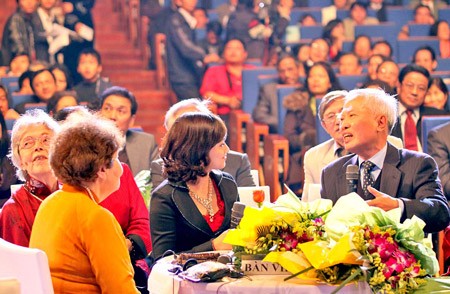 Former Deputy Prome Minister Vu Khoan (R) talks with his Russian teachers in the show "Soviet teachers and Vietnamese students" (Photo: SGGP)
The show offered a rare opportunity for Vietnamese former students to express thanks to their Soviet teachers.
Deputy Minister of Information and Telecommunications Do Quy Doan said that every time he visits Moscow, he makes a stop at the renowned Lomonosov University where he once studied.
"I still keep in contact with my teachers, including Professor Nikolayevich Zasuski who is now 85 years old," he said.
Prof. Ho Ngoc Dai said he has two profound memories of his teachers who showed him great kindness and introduced him to the world of science.
"My teacher's wife once told me that my teacher loved me and talked about me so much that if I were a woman she would be jealous of me," said Prof. Ho Ngoc Dai.
"Another teacher trusted and praised me [in all my endeavors]," he said.
"When I gave him my scientific article, he signed it without reading the article and asked a newspaper not to cut it," Mr. Dai added.
Former Deputy Prime Minister Vu Khoan, meanwhile, said he will never forget the strong "Russian spirit" he has always felt.
"'Russian spirit' sounds vague but it is true and I believe that I can feel it," he said, his voice filled with emotion.
"My Soviet teachers introduced me to the immense world of Russian language and the enriching culture of the nation," said former Deputy Prime Minister Khoan.
"The Russian spirit travels with us during our life", he added.
Soviet teachers return love for Vietnamese
VTV's documentary filmmakers, who traveled to Russia and Ukraine many times to collect footage for the show, said they experienced much benevolence from the Soviet teachers.
"During our time in Russia and Ukraine, the polite teachers in formal costumes would always be waiting for us to hold a party at their houses," said Kim Ngan, a VTV editor.
"They showed us black and white photos of Vietnamese students who had studied in Russia dozens of years ago," Ngan added.
Soviet teachers also held on to the letters and essays of their Vietnamese students, and kept them neatly to remember them by, despite the fact that their ink is fading with time, she said.
Almost all the teachers are now in their eighties, yet they still vividly recall their former students, Ngan said.
After the Dien Bien Phu Victory in 1954, President Ho Chi Minh sent three groups of Vietnamese children to study in Russia.
Fifty-five years later, Russian nursemaid Nina Anatolyevna Iratova who took care of more than 100 of the first Vietnamese students in Russia, said that she still remembered every student because she thought of them as her own children.
Prof. Sivokobulenko Vitaly Phedorovich, a former teacher of former Chairman of the Vietnamese Assembly Nguyen Van An, recalled interesting stories of his beloved student. He also showed photos of An when he was just a young pupil.
Teacher Zubes Doya Petrovna, a Russian language teacher who retired in Ukraine, said she has hung many photos and souvenirs from her Vietnamese students on the walls of her house.
"My husband and I cried when we watched a video in which my Vietnamese students sent their regards to us," Zubes said.
Many years have passed since the day when Vietnamese students first set foot on Russian soil. But an unbreakable bond remains to this day between the Soviet teachers and their Vietnamese students.