Twelve films, including two state-owned and ten private productions, will compete at the 2011 Kite Film Awards to take place at the Friendship Cultural Palace in Hanoi on March 17.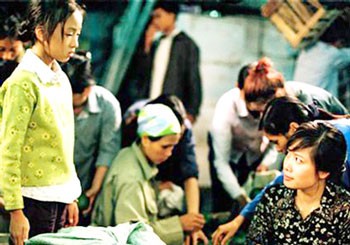 Child actress Phung Hoa Hoai Linh (L) in the movie "Mother's Soul"
They are Tam hon me (Mother's Soul); Mui co chay (the smell of burning grass); Hotboy noi loan (Lost in Paradise); Hello co Ba (Hello Lady Ba); comedy Long Ruoi (Big Boss); horror movie Ngoi nha trong hem (House in the Alley); supernatural thriller Loi Nguyen Huyet Ngai (Blood Vow); Vu dieu duong cong (Dance of the Curves); Le phi tinh yeu (Love fee); and Do hay day (Here or There).

Among them, the film Hotboy noi loan (Lost in Paradise) by director Vu Ngoc Dang was Vietnam's entry at the 36th Toronto Film Festival in September 2011. The film talks about the lives and loves of gay people and girl prostitutes. It will be screened at the Toronto Film Festival before its commercial release in Vietnam later this year.

Earlier, Vietnamese child actress Phung Hoa Hoai Linh won the "Best Actress" award for her role as 'Thu' in the movie "Mother's Soul" at the Asia-Africa Awards at the 8th Dubai International Film Festival 2011.
The 95-minute movie describes the life of a young girl living with her mother on an island in the middle of the Red River. When her mother falls in love with a driver, the young girl is deprived of maternal love and attention. As her mother becomes more and more obsessed with her lover, she neglects her daughter more and more by the day. Slowly the young girl takes on a maternal role herself by turning her attention to an orphan next door.

The film directed by Pham Nhue Giang and produced by Vietnam Feature Film was screened in American universities and theatres in November 2011.

The 2011 Kite Film Awards will also attract 19 TV series, 37 short films, 11 cartoons, 41 documentaries, 10 scientific films and 4 theory research works.

The jury board includes many big names such as People's Artists Bui Dinh Hac and Ngo Manh Lan, director Nguyen Huu Phan, Meritorious Artist Nguyen Vinh Son, scriptwriter Nguyen Thi Hong Ngat and PhD Tran Thanh Hiep.

On the occasion, the event will honour directors Bui Dinh Hac and Dang Nhat Minh who have made outstanding contributions to Vietnamese cinema.

Director Bui Dinh Hac was head of the Vietnam Cinematography Association. He has made many documentaries and feature films including Nguyen Ai Quoc Den Voi Le Nin (Nguyen Ai Quoc Comes to Lenin); Ho Chi Minh – Chan Dung Mot Con Nguoi (Ho Chi Minh – Portrait of a Man); Duong Ve Que Me (Road Back to Mother); Hoa thien ly (fragrant cynanthe); Nguyen Van Troi song mai (Nguyen Van Troi still lives forever).

Most of his films won local and international awards. He received the Ho Chi Minh Award for Art and Literature in 2007.

People's Artists Dang Nhat Minh was popular for his film Thi xa trong tam tay (Town within reach) and a documentary on national hero and poet Nguyen Trai, that won the Golden Lotus title at the Vietnam Film Festival 1983.

Some of the most impressive works are Bao gio cho den thang Muoi (When the Tenth Month Comes) (1984); Thuong nho dong que (Nostalgia for the Countryside) (1995) and the recent film Dung dot (Don't Burn) (2008).

He was also granted the Ho Chi Minh Award for Art and Literature in 2007.