The Golden Kite 2013 awards ceremony will be held in Ho Chi Minh City on March 9, as part of a wide range of activities to commemorate 60 years of the Vietnamese cinematography.
The organizing board released to the media that the awards' evaluation criteria will focus on creativity in artistic expression, national identity, human values and positive social impact.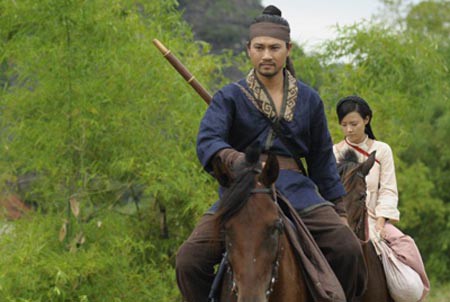 Thien Menh Anh Hung (Blood Letter) is one of 10 films nominated this year of Golden Kite award.
This will be a significant event in 2013. Besides watching film shows, the film fan can hold dialogue with old and young film makers, to study historical significance in films.. The festival will provide a chance for symposiums between artists and local audiences.
This year's event involves around 10 feature films, 19 video films and a large number of documentaries. The feature films are focused on action, comedy, entertainment and horror.
Twenty-eight feature films, along with 24 shorts, 13 animations, 6 documentaries, 10 scientific films and 3 cinematography pieces have been nominated for the annual Golden Kite awards organized by the Vietnam Cinematography Association..
Among them are numerous works that have proven popular with audiences, such as "Thien Menh Anh Hung " (Blood Letter), "Nha Co 5 Nang Tien" (The Home with 5 Fairies); "DamMe" (Passion - directed by Meritorious artist Phi Tien Son); " Lac Loi" (Lost - Meritorious director Pham Nhue Giang); "Cat nong" (Hot sand - director Meritorious artist Le Hoang); "Danh cho Thang 6" ( For June - director Nguyen Huu Tuan); "Scandal Bi Mat Tham do" (Scandal - Secrets of red carpet directed by Victor Vu); " Cuoi ngay keo lo" (Married immediately or never directed by Charlie Nguyen)…
Noteworthy, Golden Kite 2013 also will be participated by a film by Overseas Vietnamese director Siu Pham, which attended the 16th Busan International Festival,
Last year the 2012 Golden Kite awards ceremony was held at the Friendship Palace in Hanoi on March 13.