PM Nguyen Tan Dung has assigned the Ministry of Culture, Sport and Tourism to submit two more Vietnamese intangible heritages to the UNESCO for recognizing world heritages.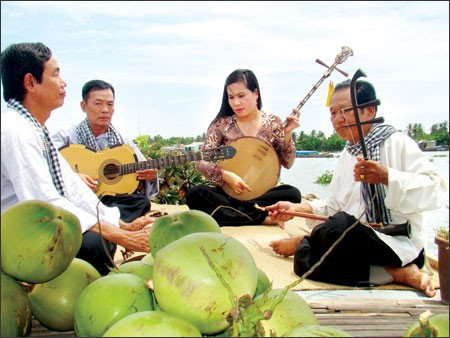 The file photo shows a performance of the amateur music in the Mekong Delta. After crops farmers often group and perform the amateur music. (Photo: Hoang Son/phunuonline)

One of the two heritages is the southern amateur music which appeared in the end of the 19th century. This is a folk music style including farmer bandsmen and singers. The band consists of 4 musical instruments: 16-chord zither, monochord, two-chord guitar and two-chord fiddle.
In the countryside, normally in the Mekong Delta, after crops farmers often group and perform the amateur music.
The other one is the custom of worshiping Hung Kings who are believed to be Vietnamese ancestors. The custom of worshiping Hung Kings is preserved from generation to generation.
Every year Vietnamese return to the northern province of Phu Tho where there is a Temple of Hung Kings on the tenth day of the third lunar month. A festival including many traditional folk cultural activities is held at the time.
The PM required the ministry to complete necessary procedures for the recognition with advices from the Vietnam National Commission for UNESCO.
If the two patrimonies will be recognized as the world intangible heritages Vietnam will have 7 UNESCO intangible inheritances.
Vietnamese Court Music or Nha nhac and the Space of Gong Culture were proclaimed Masterpieces of the Oral and Intangible Heritage of Humanity in 2003 and 2005 respectively. Bac Ninh Love Duets, Traditional Academic Songs and Giong Festival were recognized in 2009 and 2010.