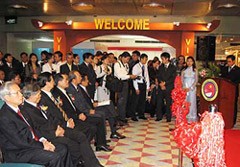 At the Opening Ceremony of Vietnam Days in Singapore held by VCCI in 2005
To improve trade, lure more investment and generally promote Viet Nam, the Prime Minister has signed Official Document No. 1792 on organizing what are termed "Viet Nam Days" in other countries.
The promotional events will be held in two or three countries every year. For 2007, the designated countries are France and India.
The relevant departments are responsible for building up the "Viet Nam Days" programs and coming up with a reasonable budget for the events in collaboration with the Ministry of Finance.