Vietnamese films Dong Mau Anh Hung (The Rebel) directed by Charlie Nguyen and Chuyen Cua Pao (Pao's Story) directed by Ngo Quang Hai will travel to Thailand for the Bangkok International Film Festival that is taking place from July 19 to 28.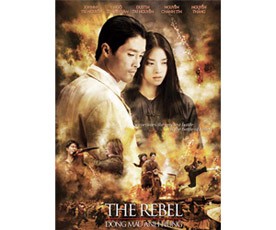 The film "The rebel"
The two films will be among 18 features from the Southeast Asian countries competing for the "Best ASEAN Film" award. There are also 27 films from Japan, the Republic of Korea, India, China and others expecting to win the Asian film category.
In addition to the main competition categories including Asian films, ASEAN films and international short films, there will also be a number of side events, such as panel discussions, workshops, master classes, exhibitions and the Bangkok Film Market, etc.
Event highlights include Thai Panorama presenting Thai films and Windows on the World, a program that introduces 80 outstanding features and short films currently being shown at the Cannes, Berlin, Venice and Toronto film festivals.
Vietnamese film stars, such as Hai Yen and Ngo Thanh Van and directors Charlie Nguyen and Ngo Quang Hai will be attending this year's 10-day festival.
Hat Mua Roi Bao Lau ("Bride of Silence") directed and produced by overseas Vietnamese siblings Doan Minh Phuong and Doan Thanh Nghia won the "Best ASEAN Film" award at last year's 2006 Bangkok International Film Festival.
The annual Bangkok International Film Festival started in 2003, organized by the Tourism Authority of Thailand, a Royal Thai Government agency in Bangkok.
A jury including Mr. Christian Jeune, Director of the Film Department and Deputy Artistic Delegate of the Cannes Film Festival, Taiwanese filmmaker Peggy Chiao and U.S producer Gary Dartnall will choose the winner of the festival's main prize, the Golden Kinnarees award.
American film critic Chuck Stephen, Hong Kong filmmaker Yon Fan and Bina Paul from India will select the winner of the ASEAN Film award.
Each year, the festival displays more than a hundred features and short films, representing some of the best and brightest in the current international cinema scene. The festival focuses on works by emerging filmmakers throughout Asia, especially those of the Southeast Asian region.