Vietnamese who studied in the UK can reminisce and network at the UK Alumni Gala 2008 this Saturday night at Ho Chi Minh City's Grand Hotel or next Saturday night at the Hilton Opera Hanoi Hotel.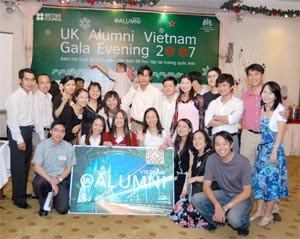 The UKAV expects the gala will gain success as last year (Photo: British Council)
The "You and your World" event, jointly organized by the British Council and the UK Alumni Vietnam Association (UKAV),  is designed to promote networking and knowledge sharing about world change among people who studied in the UK. 
The event will allow UKAV members to meet old friends, network with new members and British business people and representatives of the British Council.  
The highlight of the HCMC event will be a discussion on 'The Global Economic Recession and its Impacts on Vietnam's Economy', including a question and answer session with a financial expert. The night will include fun warm-up games, group activities, a lucky draw and a 'UK Cultural Experience' photo competition. 
For the photo competition, participants must bring along a photo taken during their time in the UK. The winning photos will be chosen according to three essential criteria: relevance to UK culture; quality; and caption. There will also be a performance of popular English songs by British and Filipino guitarists. 
The gala in Hanoi one week later will feature a charity auction of artwork.  
The UK Alumni Galas 2008 in both cities are supported by the British Embassy, LDV Lawyers, Hilton Opera Hanoi Hotel and Vine Company.