One of the most famous tragic love stories in Western literature, Romeo and Juliet, will be performed at the Ho Chi Minh City Drama Theatre (30 Tran Hung Dao St., Dist. 1).
 
SGGP caught up with the UK troupe before their first night performance at 8pm on May 5.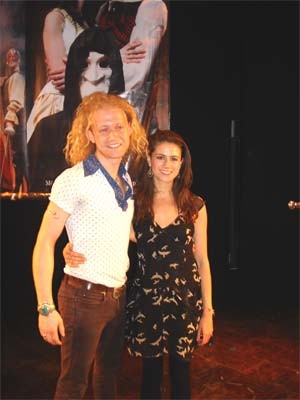 Dan Wilder and Rachel Lynes posing at the press conference May 5 (Photo: Truong Son)

Why have you chosen to perform Romeo and Juliet for your first tour of Vietnam?

Grantly Read Marshall (producer): Just simply because it's an internationally popular play. I can see that most of the people in the world at least know this story.  
What unique insight will you bring to the story of Romeo and Juliet?


Rachel Lynes (plays Juliet): I know that many artistes in the world have tried this play before and some of them gained a lot of success. But, we hardly followed what and how they did. All we try to do is live with the story with all our heart, touching the heart of the play and connecting the play with the audiences. The most important thing to us is how to make the audiences understand and feel what we are acting.  
As for myself, acting as Juliet is not an easy task for me since Juliet has many changes in her emotions, from being an innocent girl to dangerously in love with a guy whose family is fighting against her family, lying to her family about her love and finally desperately seeing her lover dead. Every time I'm playing this role, I feel like I'm turning back time to my first love when I was totally deep in love and felt so terrible when loosing my love.
How was your practice in England?

Dan Wilder (plays Romeo): Well, we prepared in 4 weeks and later we performed for 14 months (laughs).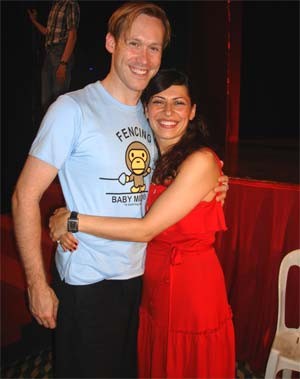 Natalia Campbell feels happy with having her boyfriend by her side during the world tour (Photo: Truong Son)

How have your preparations for the show been?


Natalia Campbell (plays Nurse): Well, as you can see now, we are checking the lights, checking the stage and also the sound. You know that we usually do the play during a long period on the stage and have to accept the heat. We also must ensure that our vocals can accept some bad conditions, like singing and talking for a long period on the stage and also the hot temperature on the stage. We both prepared mentally and physically. Now, I feel really excited with the show tonight.  
This is your first time in Vietnam, what do you expect and hope from the local audience?


Natalia Campbell: I hope they will have good time. 
During your travels and performances around the world, what have been your most outstanding memories?


Natalia Campbell: I still remember that last year we had a show for young Chinese teenagers who
had never gone to the theatre before. But we were so surprised that they enjoyed the show. I could truly feel the excitement from their clapping. That's a good memory 
Grantly Read Marshall: Well, to me, I think coming to Vietnam is a good experience. Why? I can see warm greetings from most people here. I also highly appreciate the well-organized and reasonable conditions for our stay and performing.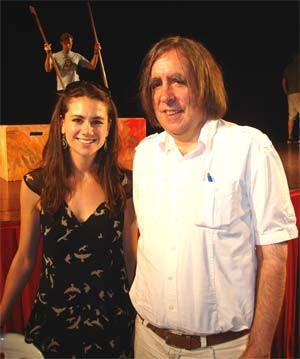 Grantly Read Marshall and Rachel Lynes posing after the interview (Photo: Truong Son)

What are your future plans?


Natalia Campbell: After two weeks touring in Vietnam, we will visit Japan for three weeks and later have 49 days around Europe 
Do you plan to tour Vietnam in future?


Grantly Read Marshall: Yes, we already do. We will have another play in Vietnam entitled "A Christmas Carol," which is inspired from the book with same name by Charles Dickens. The fixed schedule is not confirmed yet but probably the play will be on stage in the city this November.
Romeo and Juliet, directed by Paul Stebblings and produced by producer Grantly Read Marshall, is brought to HCM City with support from Le Quy Duong Co. The play will be performed for six consecutive nights from May 5 before the troupe flies to Hanoi for two nights from May 13 to May 14 at Hanoi Opera House.

Tickets cost: Diamond - VND500,000 (US$29), Gold – VND300,000 ($17) and Silver – VND150,000 ($9)