One of the main highlights of the Nha Trang Sea Festival 2011 will be the underwater wedding ceremony of 10 couples on Mun islet in Nha Trang on June 15.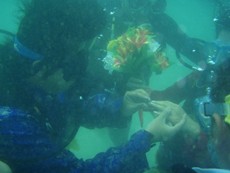 Underwater wedding ceremony will be one of the main highlights of the Nha Trang Sea Festival 2011.
The ceremony will include all traditional Vietnamese wedding rites, cake cutting, champagne drinking, kissing and exchange of rings.
The wedding will be captured for posterity by a professional photographic team of the Nha Trang-Khanh Hoa Vietnam diving center (Vinadive) in Nha Trang.
Every couple will spend VND 5,999,999 (US$270) for this unique experience. Included in this wedding package is a pair of T-shirts, dinner for two at the Con Se Tre restaurant and a first wedding night in a five-star hotel in Nha Trang. Couples must register and book before June.
For further information, contact Vinadive at 23D Biet Thu Street, Nha Trang City, tel: +84 058 3526 575 or 0905 007 317 (Mr. Minh), email: vietnamdive@vnn.vn or access www.vietnamdive.com.
This year the Nha Trang Sea Festival 2011 themed "Nha Trang-the sea rendezvous" will take place in the coastal city of Nha Trang in Khanh Hoa Province from June 11 to 15.
The festival will include 50 programs such as the Miss Khanh Hoa beauty contest, a street festival, Cau Ngu whale worship festival, bird's nest festival, a food fair, a photo and painting exhibition, a sculpture camp, the High-Quality Vietnamese Goods Fair, a film week and art performances.
The Festival is organized every two years as a regular cultural event and is expected to promote the traditional cultural values and the potential economic, cultural and tourism opportunities of the province.