Vietnam's conservation and restoration works have received the 2013 UNESCO Asia-Pacific Heritage Awards for Cultural Heritage Conservation.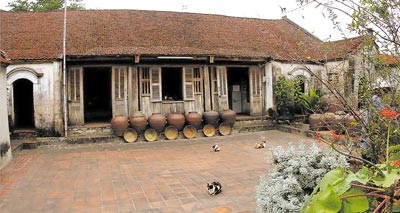 A 200-year old house in Duong Lam village
The ancient village of Duong Lam in Son Tay District in Hanoi was honored with the title 'Award of Merit' for its successful efforts in restoring five old houses. The project involved restoring old Vietnamese vernacular wooden architecture, and used the skills of many carpenters, architectural historians and Japanese experts.
The ancient village of Duong Lam is about 46 kilometres from Hanoi. It is very well known and was also the first ancient village recognized at the national level in 2006.
Duong Lam Village is the only place in Vietnam that gave the country two kings, namely, Phung Hung (761-802) and Ngo Quyen (808-944), who were born and bred in the village. They led the resistance against and were victorious over China's Sung and Southern Han troops to regain national independence. They both became kings.
After their deaths, temples were erected to worship them. Two of these are now famous destinations, such as Sung Nghiem Tu (Mia Pagoda) and Mong Phu Temple.
Mia Pagoda is located on a small hillock in Dong Sang Hamlet. To date, Duong Lam Village has 800 ancient houses.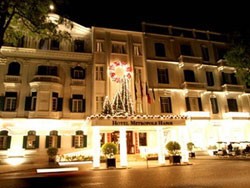 Hotel Sofitel Legend Metropole in Hanoi
The Hotel Sofitel Legend Metropole in Hanoi received the 'Honorable Mention Award' for restoration of its bomb shelter which was founded in 2011. It has been preserved and opened for public viewing.
The 100 year old hotel made the Condé Nast Traveler Hot List in 2010, and the publication annual list as the '66 coolest new hotels in the world' in 2010, besides numerous other accolades in the past.
The Sofitel Metropole was chosen as one of the 500 best hotels in the world by Travel & Leisure and Condé Nast Travel magazines; selected as the best hotel in Hanoi by Hong Kong's Destin Asian, Asia Money magazine, and Vietnam's VnEconomy; and received an award from the Vienam Tourism Association.
Sofitel Metropole Hanoi was also named 2007's best hotel for businessmen in a capital city, by readers of Business Traveler Asia Pacific, a leading travel magazine.