Prime Minister Nguyen Tan Dung has given the green light to include Thang Long, the ancient site of Hanoi, in a list of relics whose preservation will be financed by the UN Educational, Scientific and Cultural Organization (UNESCO).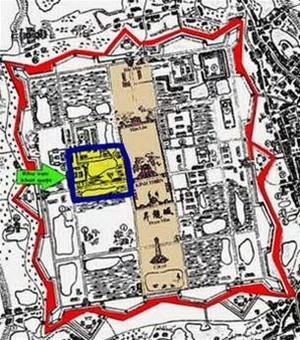 The Thang Long Imperial Citadel is shown in an ancient map
The project will get non-refundable aid of US $1.1 million.
Earlier this year the Center for Preservation of Co Loa – Hanoi Ancient Citadel Relics sent the profile of Thang Long – Hanoi Imperial Citadel to UNESCO for consideration to recognize it as a world cultural heritage site.
The citadel, excavated in December 2002, covers an area of 19 hectares in Ba Dinh District. But it is believed to extend over 40 hectares in all.