The United Nations Educational, Scientific and Cultural Organisation (UNESCO) on Thursday added Vietnam's xoan singing into the world's List of Intangible Heritage in need of urgent protection.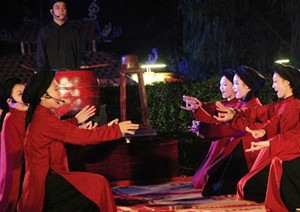 File photo shows a xoan singing performance
The decision was announced during the sixth session of UNESCO's Intergovernmental Committee for the Safeguarding of Intangible Cultural Heritage, taking place in Indonesia's Bali from Nov. 22 to 29. The meeting has added other traditions of other countries.
Vietnam's xoan singing dossier was the only one to gain complete consensus from the appraisal body, according to Doctor Nguyen Thi Minh Ly, former deputy head of the Cultural Heritage Division, the Vietnamese Ministry of Culture, Sports and Tourism, who is attending the UNESCO meeting.
Xoan singing is practiced in sacred places in the northern province of Phu Tho province during spring.
Based on legends and historical, archaeological and social records, researchers say xoan singing first appeared in the time when the Hung Kings established the nation. This kind of singing shares similarities with lullaby.
A report made by the Phu Tho Province Department of Culture, Sports and Tourism early 2010 shows that ancient xoan rhythms are preserved at four xoan groups in Viet Tri City of the province.
Meanwhile, the 17 communes in Phu Tho and neighboring Vinh Phuc Province that were identified as xoan singing performance places just see the shows during spring festivals, the report says.
Currently, just 81 people in all join the exiting xoan groups, with 49 knowing how to sing the traditional songs, the report adds.