The Trap highland village, Krong Ana District, Dalak Province is the only place where the traditional female gong band is still maintained.
The gong (a kind of Viet Nam's Central Highland musical instrument) is called Jo and devised for Ede-Bih tribe's women only.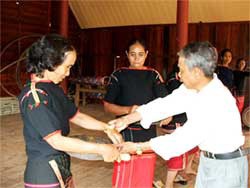 Leader Ama Doan are training the gong skills to band's members.
According to Ama Doan, who is responsible for the Trap village's gong bands and leader of the female gong band, the gong consists of three kinds, No-chinh (The father gong), Na-chinh (The mother gong) and Dai chinh (The baby gong).
The band has seven members, one drummer and six gong-players. The oldest is 67 year-old A Duan Ni H'Sam Esao.
Every week, every month, they practise at leisure "to hone their skills". The band plays invariably at crop celebrations, religious festivals and on such occasions as birthdays, funerals and guest receptions.
They often take part in the gong contests and win quite a few awards, including the first prize of the Central Highland ethnic minorities' gong contest which was organized by Viet Nam Television in 2004.
About a month ago, leader Ama Doan said that they felt so honored and excited to have a chance to perform at the Central Highland ethnic minorities' Union Congress.
Ama Doan is currently training about ten girls aged 15-17 on gong skills, in order to maintain the only female gong band of the Central Highland.
Shortly, the female gong band will perform in a ceremony to celebrate the title "The Central Highland's Gong Culture: an unwritten masterpiece of intangible culture heritage" awarded by the UNESCO.
All gong lovers hope that after the ceremony, they will still have opportunities to enjoy the natural and sweet sounds of gong in the open air of High Mountains and thick forests in Viet Nam's Central Highland.