Vietnamese street food not only attracts local people, but is also well-known internationally and is often served in five star hotels.
Richard Johnson, an award-winning British food critic, said that a little known secret is that the world's best sandwich or 'Banh Mi' -- a familiar fast street food in the life of every Vietnamese -- is not found in Rome, Copenhagen or New York City, but on the streets of Vietnam.
The US monthly culinary magazine Food & Wine lists Ho Chi Minh City among the cities for best street foods. According to the travel-oriented community website VirtualTourist.com, Vietnamese cuisine has received some major credits. In addition to the popular 'Pho' and 'Banh Mi', some other favorite street dishes include 'Com Tam' (Steamed broken rice with grilled pork ribs and fried egg), 'Bo La Lot' (Seasoned beef wrapped in leaf), and 'Goi Cuon' (Salad rolls).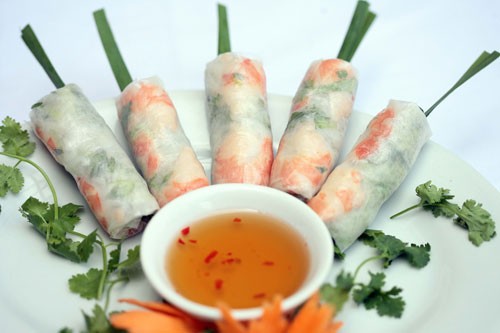 'Goi cuon' (Salad rolls) (Photo: Thanh Nien)
Even the very hard-to-please American chef and food critic Anthony Bourdain admits he fell in love with Vietnam because of the variety of street foods. "The best breakfast of my life was and will always be a bowl of Pho, eaten sitting on a low plastic stool on a sidewalk in Saigon. Breakfast does not get any better than that," he said.
The Food and Drink section of CNN TV channel also praised Vietnamese street food in various news articles.
Street foods often raise concerns of food safety and hygiene, but many people cannot help the rumble in their stomachs when they see pieces of 'Pha Lau' (beef/pork intestine stew) floating in a yellow-brown thick soup with delicious coconut-milk aroma or the smell of butter-fried quails in some street corner.
Vietnamese street food is varied with a multitude of tastes with each dish a treat for the palate. This world of street vendor too has a diversity of 'class' with many street stalls proclaiming to be 'world class' or the highest in popularity.
Let's try a bag of 'Banh Trang Tron' (mixed rice paper) from a street vendor called Thanh who is parked on a sidewalk near Ngo Gia Tu Apartment Building in District 10 in Ho Chi Minh City. A bag of mixed rice paper with a combined sour, salty, hot and sweet taste always attracts school kids, but now even the rich have become addicted. 'Banh Trang Tron' is made of several ingredients like rice paper, chili paste, dried shrimps, seasoned fried shallot, dried beef, kumquat juice, mango, Vietnamese mint, hard boiled quail eggs, and dried cuttlefish.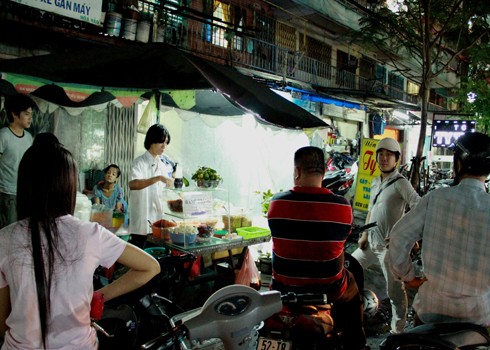 Customers are waiting to buy 'Banh Trang Tron' from Thanh's stall. (Photo: amthucgiaitri.com)
Thanh said that he chooses the ingredients very carefully. For instance, he only uses first-grade rice paper and makes fried shallots himself. In order to maintain the number of customers, he always tries to upgrade the recipe. As a result, it is easy for him to price VND20,000 for a bag of 'Banh Trang Tron', a price that doubles or even triples, and collects around VND4 million within four hours of opening his stall every night.
The flat winnowing basket of 'Oc Dua' (red lip snails) by a cloddish woman near Ben Thanh market is a favorite of connoisseurs of street foods. A milk-can of those tiny snails sells for VND60,000, however, people were still willing to pay for that price just because of a subtle alluring salty taste, the rich taste of butter, and hot taste of chili rousing the tip of their tongues.
The woman said that she sells around 70 milk-cans of 'Oc Dua' everyday though there was nothing special in the way she seasoned her snails.
Thuy, a middle-aged woman, who just pulled over her car to buy five milk-cans of 'Oc Dua' said that she drove from District 8 to District 1 just to buy 'Oc Dua'. She has been a frequent visitor of this street food stall for three years but she has never found a dead snail or found this dish less delicious.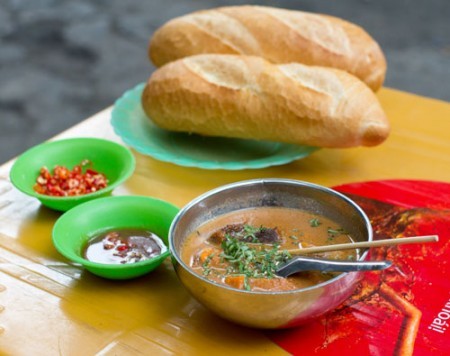 A bowl of 'Pha Lau' served with 'Banh Mi'. (Photo: inlook.vn)
Vietnamese street foods have also entered luxury hotels in Ho Chi Minh City. Many people were surprised when they saw 'Bo Bia' (Popiah rolls), 'Banh Trang Tron', 'Com Chay Cha Bong' (fried rice crust with shredded pork), and 'Banh Duc' (plain rice flan) at five-star InterContinental Asiana Saigon. They love to visit the hotel on Sunday afternoons when most street foods are served at a cost of only VND1.4 million for a buffet.
A visitor said that there were hundreds of dishes from various countries served at the hotel's buffet but street foods were still the best.
After enjoying 'Pha Lau', an American man said that he could not believe that street food could be so delicious and wondered why people in his country were afraid to eat internal organs of an animal.
Nguyen Thi Bich Vy, sous-chef at the InterContinental Asiana Saigon Hotel, revealed that every time she sees a street food dish that is attracting many people she tries it then adds it to the menu at the Market 39 restaurant in the hotel. Until now, there have been many street food dishes on her menu, which she alternates regularly like 'Goi Cuon' (salad roll), 'Goi Du Du Kho Bo' (green papaya salad with beef), 'Bot Chien' (fried dough), 'Banh Khot' (mini rice pancake), 'Banh Xeo' (rice pancake), 'Che Chuoi' (sweet banana soup), 'Chan Ga Nuong Muoi Ot' (grilled chicken feet with chili salt), 'Bach Tuoc Nuong' (grilled octopus), 'Com Dep' (green rice flakes), 'Xoi Gac' (steamed glutinous rice), and 'Banh Da Lon' (steamed tapioca layered cake).
Vy shared that at first the restaurant only served a few street food dishes but she was surprised when many foreign visitors asked her for recipes, ingredients, and origin of these street foods. Since then, the restaurant has added many more street food dishes to the menu.