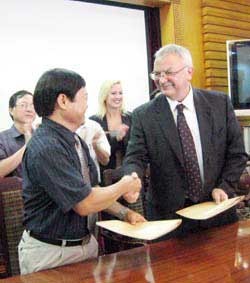 Mr. Nguyen Van Thu, director of Nam Dinh Museum (L) and US Ambassador Michael Michalak at the July 30 signing ceremony in Ha Noi.
The U.S. Ambassadors Fund for Cultural Preservation will grant US$30,000 to Nam Dinh Provincial Museum to preserve its collection of ancient wooden objects of worship
.
The museum has fifty seven items made of precious wood and dated to the 17th, 18th, and 19th centuries, including statues and lamps.
These antiques were carved in flowery patterns inspired by the Vietnamese folk culture.
A contract was signed by the two sides Wednesday in Ha Noi to restore the collection, keep it in good condition, and display it to the public.