U.S. Ambassador to Viet Nam Michael W. Marine and Dr. Pham Quoc Quan, director of the Vietnamese History Museum, signed a grant agreement for a project to preserve 70 objects of worship and devotion on Thursday.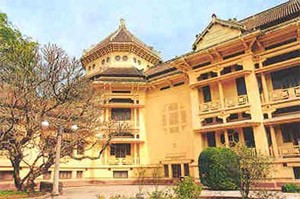 Vietnamese History Museum in Ha Noi
The U.S. Government, through the Ambassador's Fund for Cultural Preservation, is providing VND336 million (about US$21, 000) to Viet Nam's Ministry of Culture and Information to restore and preserve the 70 religious and devotional objects.
This eight-month project will be conducted by experts in the Preservation Department of the Vietnamese History Museum, which hosts the collection.
The project will restore the objects to their original state, thus prolonging their lives and reducing the danger of cracking and insect damage.
The deteriorating collection of 70 Buddhist and ancestral devotional objects includes altars, ancestral tablets, ritual trays, shrines, imperial equipage and carved chests from the Le-Nguyen Dynasty of the 18th and 19th centuries.
They are part of the long-standing tradition of ancestral worship by the Vietnamese.
The U.S. financial assistance for the project will help preserve a collection that is of great cultural, religious and historical significance.
It will also contribute to Viet Nam's effort in preserving its rich and diverse cultural heritage. The assistance demonstrates American respect for Viet Nam's cultural heritage.
The Ambassador's Fund for Cultural Preservation (AFCP) was established by the U.S. Department of State in 2001 to help less developed countries preserve their cultural heritage and to demonstrate U.S. respect for other cultures.