A special book exhibition, featuring more than 4,500 titles and 15,000 copies of books from Sterling Publishing House is being held at Xuan Thu Bookstore until September 24.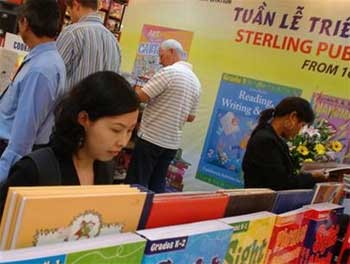 HCMC's readers visit the book exhibition at Xuan Thu Bookstore. (Photo:TTO)
The books offer up-to-date information on fine arts, painting, education, health, cooking, handicraft, and interior decoration. They are being offered at a 10 percent discount during the exhibition.
The week-long foreign book exhibition is organized by the Fahasa Book Distribution Corporation and Sterling Publishing House.
Founded in 1949, Sterling is also one of the world's leading publishers and one of the top 25 publishing houses in the U.S. Sterling is a wholly-owned subsidiary of Barnes & Noble, Inc.
This is the second time that Sterling has exhibited books in Viet Nam.