Besides roses and chocolates, the two traditional gifts for Valentine's Day, greeting cards, cushions, clothes, decorated with hearts, are much admired this year.
Since February, 2006, many flower and gift shops in Ho Chi Minh City have received delivery orders through Internet or telephone. A certain shop in Vo Van Tan Street had about 200 orders of flowers and chocolates on February 12, 2006.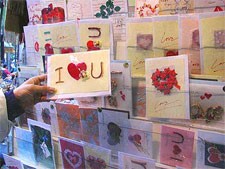 Selecting a Valentine card
The trading centers like Zen Plaza, Diamond Plaza, City Mart, Big C, Maxi Mark, also have special promotional programs for the loving couples on February 13 and 14, 2006. Many products for Valentine's Day, such as twin T-shirts for couples, heart-shaped cushions and heart-shaped chocolates, are available in Ho Chi Minh City. The fashion shops like UnderWear, Sea, Ninomax, Fico, Vera, Triump, Wow, T&T and Thuy Tinh attracted customers with their special promotional programs, such as sales-off from 10% to 20% or free chocolate gifts. Customers who buy a shirt for men will get a free one for girls. It is really good business for the industry (!?)
Young people send cell phone ring tones and love messages by SMS to surprise their beloved. "In my country, Valentine's Day is a special day for the couples. The man will give flowers, chocolates or jewelry to his wife. It's really a big chance to say that "I need you" or "I love you". In recent years, the Vietnamese Valentine's Day preparations seem to be similar to those in the west. Cards, flowers, hearts, chocolates, etc. Four years ago, there were just a few shops in Ho Chi Minh City offering gifts for Valentine's Day" said, Ellen Thompson, an ILA (International Language Academy) teacher from U.S.A., who has lived in Ho Chi Minh City for four years now.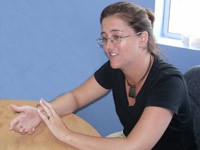 Ellen Thompson (Photo: T.C)
On February 14, 2006, there are many special menus on offer for Valentine's Day, so the love couples can easily find a romantic place in a restaurant in Ho Chi Minh City to have dinner. For example, a special menu named "Forbidden Fruits" has Fusion culinary art in Palace Restaurant. The Continental Restaurant introduces its buffet as "The Most Romantic Ball" in a rose garden. The "Love Melody" night in Serenade Restaurant of the Majestic Hotel is a wonderful night with violin, piano music. Fans of Jazz can come to the "Enjoying Romantic Moonlight" program at the Bellvue Bar to have chocolate cakes, ice creams, fruits and cocktail while listening to their favorite music.
"I will have a party with my close friends. And after that, we will go around the city to see the decorations on the streets. It will be an interesting night." said, Elizabeth Copley, another young English teacher in ILA.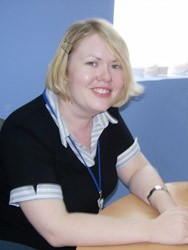 Elizabeth Copley (Photo: T.C)