Thousands of candles glowed and lit in martyrs cemeteries and monuments in districts throughout Ho Chi Minh City on July 26.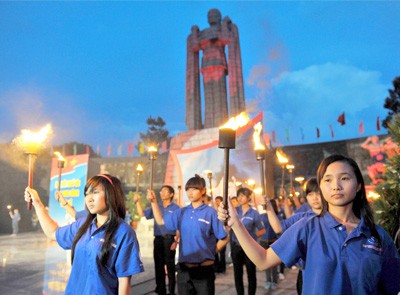 A candle lighting ceremony was held at the Ho Chi Minh City Martyrs Cemetery.(Photo: SGGP)

City leaders and more than 7,000 students, officials, workers, armed forces and martyrs families took part in a candle lighting ceremony commemorating past national heroes at the HCMC Martyrs Cemetery on July 26.

In addition, a television program titled 'Immortal Heroic Song' to mark the 65th anniversary of War Invalids and Martyrs Day (July 27) was televised at the Mai Dich Cemetery in Hanoi; Phu Quoc prison historical site in Kien Giang province; the South Central Security Base in Tay Ninh Province; the National Road 9 Cemetery in Quang Tri Province; Dien Ban Cemetery in Quang Nam Province; and the 'Capital of the Resistance War' historical site in Thai Nguyen Province.

The program is meant to be a tribute to martyrs and wounded soldiers, and for providing exchanges with historical witnesses of the war time, Vietnamese heroic mothers and heroes of the People's Armed Forces.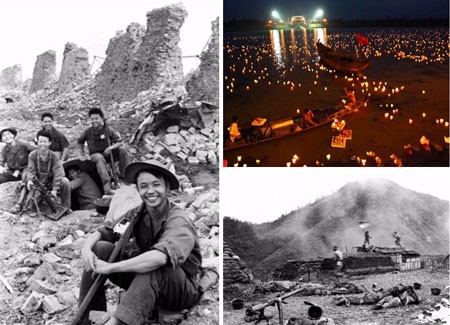 Thach Han River will be lit with 15,000 colorful lanterns in the 'Quang Tri- Belief in a Bright Victory' art program.(Photo: SGGP)
The 'Quang Tri-Belief in a Bright Victory' program will also be broadcast live on VTV channel on July 27.

The special event will take place at Giai Phong (Liberation) Square, the belfry and Quang Tri ancient citadel monument on Thach Han River that will be lit with 15,000 colorful lanterns by the Ho Chi Minh Communist Youth Union.

Journalist Ta Bich Loan will be the host of the event which will have participation of well-known singers such as Thanh Lam, Tung Duong, Tan Minh, Lan Anh, the Youth theater art troupe and Thai Binh Cheo troupe.

The program will give audiences a chance to pay tribute to national heroes who sacrificed their lives for national independence.