The premiere of Choi voi (Adrift or Lonely), by director Bui Thac Chuyen, will be shown at cinemas in Hanoi and Ho Chi Minh City on November 15, said a representative from Galaxy Studio, distributor of the film in Vietnam.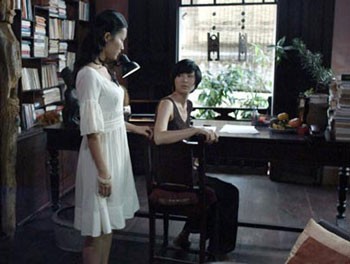 Actresses Hai Yen (L) and Pham Linh Dan (R) in a scene in the film Choi voi (Adrift)
After this, the film, which won the Fipresci International Critics' Prize at the 66th Venice Film Festival, will be presented in other cities and provinces nationwide.
The film starred actress Pham Linh Dan and actor Johnny Tri Nguyen.
They will travel to Thailand with director Bui Thac Chuyen on September 23 for the 2009 Bangkok International Film Festival.
An overseas Vietnamese actor, Dustin Nguyen, has also been asked to grace the red carpet.
Choi voi will compete for the Main Competition prize at the film fest.
Eighty films from across the world will be showcased at the Thai film fest from September 24 to 30 , which has two competitive prizes, including the Main Competition for films by first and second-time directors - and the Southeast Asian Competition for films from the region.


Related articles:
Vietnamese film wins award at Venice Film Festival
Vietnamese film to compete in Venice Film Festival