THUA THIEN – HUE (VNS) — A veteran embroidery artisan from Hue, Le Van Kinh, has completed 25 embroidery works that depict a poem renowned for its philosophical message by zen master Man Giac (1052-1096).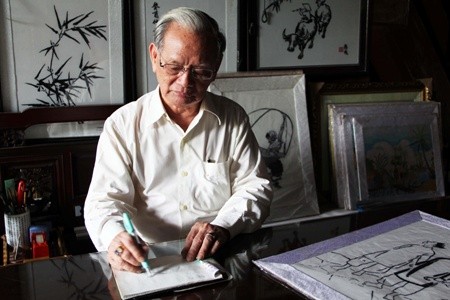 Artisan Kinh draws pictures that are embroidered later.—VNS Photo Phuoc Buu
Artisan Kinh embroidered the poem in 20 different languages, including English, French, German, Japanese, Korean, Laos, Spanish, Thai and Vietnamese. Moreover, he embroidered three versions of the poem in Vietnamese and two versions in Japanese and Korean each.
The artisan said he started working on the embroidery pieces in 1997. At the time, he was hoping to showcase the unique and famous techniques of Hue embroidery, as well as popularise the poem to foreigners.
"I have a total of 25 works, which can be framed. I think doing that many works is enough at my age," adds Kinh.
Kinh, 86, manages an embroidery shop, Duc Thanh, which was set up by his grandfather. Even today, he uses complicated techniques to create unique embroidery pieces. In fact, Kinh is considered by many as the best embroider in the country.
"Back in 1997, a German gentleman sought me out because he wanted me to create a unique Vietnamese souvenir that he could take home to Germany after living in working in Viet Nam," Kinh says. "He was familiar with and respected zen master Man Giac, and we agreed on embroidering the master's philosophical poem."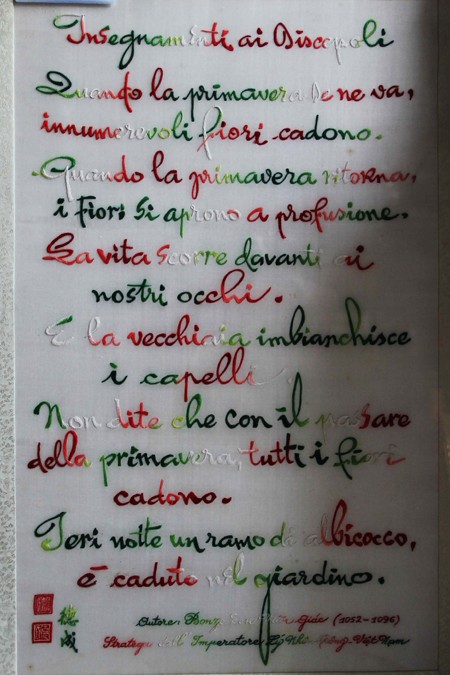 The embroidery work of the Cao tat thi chung poem in Italian. —VNS Photo Phuoc Buu
Kinh later carried on embroidering the poem in different languages, after completing the German embroidered version of the poem.
"Each piece took me more than two months; I had to first trace the letters on the cloth and then embroider them," the artisan explains. According to Kinh, translating the poem accurately in different languages took a long time.
"I translated the poem in French and my daughter did the English version. Certainly, we took the help of people who were experts in different languages."
"I also took the help of international friends for translation in different languages. Some overseas Vietnamese helped me in my efforts as well," he adds.
Kinh says he does not plan to sell the embroidered works to anyone and will have only one copy for each language.
The poem, Cao tat thi chung (Something to tell the human), which describes the moment when an ochna tree is in full bloom in spring, is believed to feature a circle of life, using the tree as a metaphor. It explains the nature of every human, as well as of every life event.
The poem has been popular for several centuries. The poem has been published as a booklet and continues to inspire artists, especially during the Tet holiday.