A veteran photographer, Huu Cay, opened an exhibit, "Ky uc Ha Noi" (Memoirs of Hanoi), at Hanoi Information and Exhibition Centre August 14.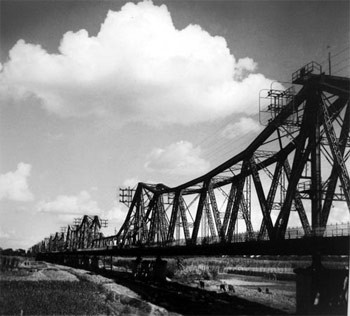 A photo featuring Long Bien bridge is on display at the exhibit in Hanoi (Photo: SGGP)
The display, at 45 Trang Tien Street, features 150 black-and-white photographs captured by the 77-year-old artist since 1950. 
The pictures are mostly focused on Hanoi's most popular attractions, like Dong Xuan market, the bell tower of the Quang Nghiem pagoda and the former Trang Tien grocery. 
Some precious past attractions were captured in his photos, including the park in the former Palace of The Governor-General of French Indochina (captured in 1950), historical doctor laureate steles at Hanoi's Temple of Literature (1951) and North Vietnamese soldiers taking over Hanoi (1954). 
With some color photos featuring the present Hanoi added, the display seems like a review of Hanoi from past to the present.  
From the first sight, visitors can misunderstand the concept of the artist to separate Hanoi in the past and the future and only suppose there is no link between those two sections. In fact, the artist expects visitors to truly understand the beauty of the Hanoi in the past, have a comparison between the old Hanoi and the present Hanoi and later recognize their responsibility to preserve the peaceful and pure beauty of the past Hanoi.  
According to the artist, his debut exhibit is to celebrate the 55th anniversary of the Hanoi Liberation Day (October 10). The exhibit will remain open until August 30. 
The photographic artist Huu Cay, full name as Nguyen Huu Cay, was born in Hanoi.  
He is one of the founders of Vietnam Association of Photographic Artists.  
In 2002, he released a photobook, "Viet Nam trong trai tim toi" (Vietnam in My Heart), featuring 200 photos, which acts likes his diary, with stories of the country - from the war in the past to the peaceful life in the present - are updated carefully.