A veteran photographer, Minh Loc, will showcase his latest photo exhibit from August 9 to 16 at Binh Quoi Tourist Village, Binh Thanh District, HCM City.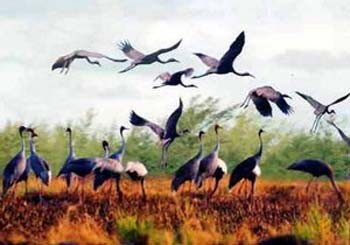 A photo from Red-crowned Crane collection by photographer Minh Loc (Photo: Courtesy of Minh Loc)
The experienced photographer will present 80 photos from two collections, "Sapa doi moi" (New Sapa) and "Seu dau do" (Red-crowned Crane).
In the New Sapa collection, the photographer successfully captured the peaceful and friendly life of the ethnic minorities H'Mong, Dao, Tay, Xa Pho, and Day, as well as the main minority Kinh.
The imposing and fascinating sights of the town are drawn carefully and keenly in the collection.
Meanwhile, the Red-crowned Crane collection gives a new view of the red-crowned crane. This bird becomes romantic and poetic in the photos.
When judging the collection, Prof. Vo Quy, from Hanoi National University, said: "His experiences from ten years working hard and watching this bird helped him describe not only the beauty of this bird, but also its characteristics and habits."
The 80 photos on display over August 9-16 are also for sale.
Proceeds from the sale will be used to help Sapa residents to overcome troubles from recent floods. Proceeds will also go to a fund for disadvantaged children at the Nguyen Dinh Chieu School for the Blind.
The photographer will contribute a copy of two collections to the Lao Cai Museum.
Photographer Minh Loc, real name Nguyen Huu Loc, has won many awards and hosted 50 exhibits, of which 33 were held for charity.