The Italian Embassy and the Ha Noi University of Fine Arts are running a competition called VIET IT! for the sixth Italian Culture Week starting on October 20.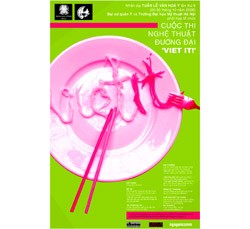 The logo of the competition VIET IT!
While the contest is open to all Vietnamese citizens, the organizers would like to see a lot of entries from young and emerging artists with either installations or performances, or both.
There's a theme that must be adhered to: the mother and child relationship as illustrated by a fragment of poetry written by Pier Paolo Pasolini (which will be supplied).
An entry in the form of a performance must include pictures or videos; if it's a drawing or model, then a three-dimensional representation is called for. Whichever is chosen, there must be a commentary about the link between the entry and the chosen theme.
To enter the contest, send a message to culturale.hanoi@esteri.it and include your full name, date of birth, actual studies or study level, telephone number and email address. The organizers will respond with more information and instructions.
The complete presentation must be submitted by mail, email (if less than 2MB) or in person to the Embassy of Italy, 9 Le Phung Hieu Street, Ha Noi by October 17.
The members of the judging panel are Italian Ambassador Mrs. Pamela Matacotta, Deputy Head of Mission Mrs. Samuela Isopi, VIET IT! project director Ms. Caterina Desiato, Artistic Director of the Ryllega Experimental Art Gallery Mr. Nguyen Minh Phuoc, and artist Mr. Truong Tan.
A nine-month fellowship from Italy's foreign ministry to study at an Italian university or other approved institution awaits the winner of the VIET IT! competition.