President Truong Tan Sang has affirmed Viet Nam's external policy of expanding mutually beneficial co-operation with African nations, including the Republic of Seychelles.
Sang made the affirmation during a high-level dialogue yesterday with President James Alix Michel who began a two-day visit to Ha Noi the same day.
He thanked Seychelles for recognising Viet Nam's market economy status, making an important contribution to the fine development of traditional friendship, mutual trust and support for the two countries.
He congratulated Seychelles for its achievements in socio-economic development in recent years and appreciated its contributions to peace and stability for the Southern African Development Community (SADC) and across the whole region.
For his part, President James Alix Michel expressed his admiration for late President Ho Chi Minh, the Communist Party of Viet Nam and the Vietnamese people's past struggle for national independence.
He wished Viet Nam to reap greater fruits in realising its socio-economic development targets to build a wealthy and strong nation with a rising position in the world arena.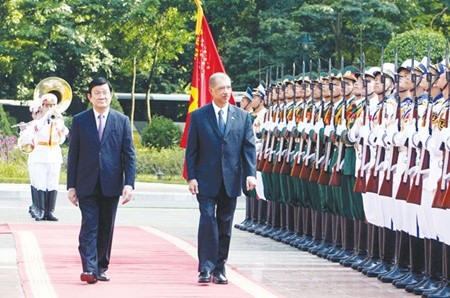 President Truong Tan Sang (left) and Republic of Seychelles President James Alix Michel review Viet Nam's guards of honour
Both presidents said they were happy with the encouraging results of multifaceted co-operation between the two countries, stressing that Seychelles is currently the biggest African investor in Viet Nam.
They said they would instruct their relevant agencies to study the possibility of increasing bilateral co-operation in investment, tourism, agriculture, seafood processing, oil and gas, and renewable energy.
The two leaders exchanged views on regional and international issues of mutual concern and agreed to share information and boost co-ordination at multilateral forums to contribute to global peace, stability, co-operation and development.
They also agreed to release a joint statement after President James Alix Michel's visit.
After the talk, Presidents Sang and his counterpart witnessed the signing of five co-operation documents in the areas of diplomacy, aviation, tourism, trade, and the twinning relationship between the two capitals of Ha Noi and Victoria.
President James Alix Michel invited President Sang to visit his country and the invitation was accepted with pleasure.
The same day, President James Alix Michel was also received by Party General Secretary Nguyen Phu Trong.
The guest briefed Trong on the results of the dialogue with his Vietnamese counterpart and informed the Party leader about the activities of Seychelles People's Progressive Front, in which the president holds the position of General Secretary.
Trong said he believed under the leadership of the Front, the Seychelles people would continue achieving greater success in the course of national construction and development, thus lifting the country's position in the international arena.
He expressed his hope that after the president's visit, the two countries would continue to complete legal framework to strengthen the co-operation for mutual benefits