An archaeology conference with 100 scientists participating opened in Ha Noi on September 28 to present 456 scientific archeological reports on a slew of new finds in a range of different categories.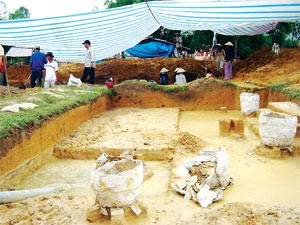 Some ancient toms are excavated in Thua Thien – Hue Province
This year's conference will present reports from various fields such as stone archaeology (from 12 excavations), metal archaeology (from eight excavations), historical archaeology (from 12 excavations) and Champa-Oc Eo archaeology (from five reports on several large excavations).
 
Earlier this month, some 30 ancient tombs dating around 2,500 years ago from the Sa Huynh people were excavated at Huong Chu Commune in Thua Thien-Hue Province's Huong Tra District.
 
Among these, 25 tombs and their belongings—such as agate beads, pottery ear rings and Sa Huynh lights—are still undamaged.
 
These excavated tombs will be restored and exhibited at the Viet Nam History Museum and the Thua Thien-Hue Revolutionary History Museum.
 
Through prehistoric items such as tombs, stone, pottery, metal appliances, production tools and jewelry, scientists continue to learn about social and historical structure of ancient Vietnamese culture.
 
This year has yielded an abundance of excavated archaeological finds nationwide. Many vestiges from ancient Vietnam dating from as far back as 2,500 years ago have been discovered in the provinces of Ha Giang, Bac Can, Tuyen Quang, Tay Nguyen, Kon Tum, Da Lat, Lam Dong and Khanh Hoa.