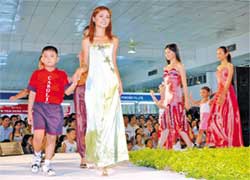 A collection of Hanoisimex in VFF'05
The annual Viet Nam Fashion Fair aims to present export potentials of Viet Nam's Garment and Textile Industry and creates new export opportunities for domestic enterprises to world leading garment and textile groups. It attracts many domestic and foreign leading garment and textile companies to take part in.
The preparations for Viet Nam Fashion Fair 2006 (VFF'06) have almost been completed. Around 200 stalls of domestic and foreign enterprises will be set up at the Fair.

This is a professional export fashion fair with the attendance of leading garment and textile companies such as Viet Tien Garment Company (VTEC), Nha Be Garment Company, Phuong Dong Garment Joint-Stock Company, Legamex Export Garment & Leather Company, Coast Phong Phu, Ha Noi garment and textile companies (Hanoisimex), An Phuoc Garment Company, etc .

The Phuong Dong Garment Joint-Stock Company with the success of F.House and Phuong Dong brands in the Eastern European market will introduce the F-Jeans collection, a new brand which has just been set up recently and received special attention in the home market.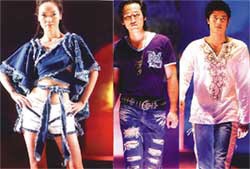 F-Jeans collection
Coast Phong Phu and Hanoisimex are top garment raw material suppliers. Coast Phong Phu has signed a cooperation program with the world's leading Textile Group, U.S Burlington to receive production technology transfer and completing specialized material to produce high-grade garment exports.

To take part in VFF'06, enterprises must accept very strict inspections of their goods' origin and quality, and products must have labels and their contents must be in conformity with Viet Nam's trade law.

"VFF'06 will set up an interdisciplinary inspection team with the attendance of the Consumer Protection Association and enterprises to get rid of prohibited goods, counterfeits, left-over stock, products of low quality and products violating the industrial ownership", Mr. Ha Ngoc Them, member of the fair organizing board said.

VFF'06 will last from July 19 to 20 for the exchanges and transactions between enterprises, not for retail.