A week of Cambodian art and culture featuring traditional music and dances, exhibition of about the land, culture and people of Cambodia, screenings of Cambodian films and much more will take place for the first time in Viet Nam from June 25 to July 6, according to the Ministry of Culture and Information.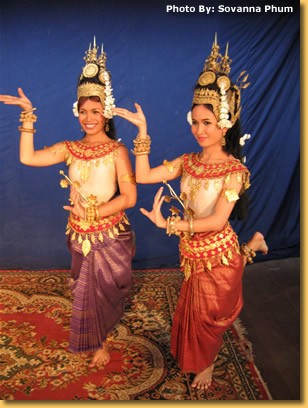 A classical Cambodian dance
The event is an opportunity for Vietnamese to learn more about the land, natural beauty and daily life of the Cambodian people, thereby enhancing mutual understanding, friendship and cooperation between the two countries.

The Cambodian Culture Week aims to create opportunities for artists and cultural workers of the two countries to exchange experiences, preserve and develop cultural identities of both countries.
The shows will take place in Ho Chi Minh City and the provinces of Binh Duong and Soc Trang.

The Vietnamese Ministry of Culture and Information, the Cambodian Ministry of Culture and Fine Arts, and the Vietnamese embassy in Cambodia have organized both this upcoming event and last year's Viet Nam Culture Week that took place in Cambodia.