President Truong Tan Sang and his Iranian counterpart, President Mahmoud Ahmadin-ejad, have confirmed their determination to further strengthen and develop Viet Nam-Iran bilateral ties across various fields, including trade, agriculture, seafood, culture, sports and tourism.
After a welcome ceremony for the Iranian leader in Ha Noi yesterday, the two expressed their pleasure at the burgeoning co-operation between the two countries.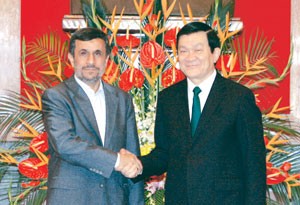 President Truong Tan Sang (R) meets his Iranian counterpart Mahmoud Ahmadinejad yesterday in Ha Noi.(photo VNA)
They also exchanged views on regional and international issues of mutual concern.
President Sang emphasised Viet Nam's unswerving policy of seeking friendship and partnerships with foreign countries – to strive for peace, independence and development.
"In its foreign policy encouraging diversification, Viet Nam attaches importance to developing co-operation with traditional friends – including Iran."
"Viet Nam will work closely with Iran and other members of the Non-Aligned Movement to help the organisation further develop," said Sang.
President Ahmadinejad wished Viet Nam success with its socio-economic development targets and expressed his hopes that the nation would prosper and increase its position in the world arena.
He also took the occasion to invite Sang to make an official visit to Iran. The Vietnamese President accepted the invitation with pleasure. The visit will be arranged via diplomatic channels.
The same day, Party General Secretary Nguyen Phu Trong and Prime Minister Nguyen Tan Dung also met with Ahmadinejad.
Trong spoke of the achievements that Iran has recorded during its national construction and development, and congratulated the country on successfully organising the 16th Non-Aligned Movement Summit. He said that he believed Iran would fulfil its role as President of the movement.
The Party leader also expressed his pleasure at the fine development of bilateral relations in the recent past, and said he hoped that the two countries would continue exchanging delegations at various levels and increasing trade co-operation as well as expanding cultural and educational activities to deepen mutual understanding.
In his own meeting with the Iranian leader, Prime Minister Dung declared that Viet Nam would try its best to work with the country to further strengthen and boost bilateral relations.
According to the PM, there is much potential for co-operation between the two nations, especially in economics, trade and investment. He suggested that the two sides continue to work together in the common interests of both countries.
For his part, Ahmadinejad suggested the two nations strengthen trade exchange, particularly in aquatic and agricultural products – to increase two-way trade turnover in the future, adding that Iran would create favourable conditions to help Vietnamese products succeed in the Iranian market