A concert titled "Viet Nam Marvelous Night" will feature more than 200 cai luong actors, singers and dancers and will be held at the Reunification Palace in Ho Chi Minh City tomorrow.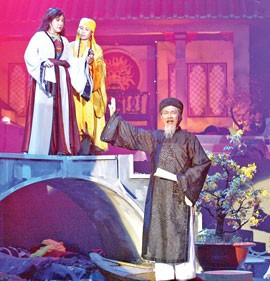 A scene in the "Kim Van Kieu" cai luong drama
Pop singers Ho Ngoc Ha, Duc Tuan, Minh Thuan, Thanh Thuy, and Anh Khoa will perform as welll a symphony orchestra conducted by Tran Vuong Thach.
But the highlight of the 70-minute show will be an extract of the cai luong play Kim Van Kieu, which was first presented two years ago on the occasion of Tet.
Kim Van Kieu is adapted from Truyen Kieu (The tale of Kieu), a masterpiece by legendary Vietnamese poet Nguyen Du (1766-1820), by directors Hoang Song Viet and Hoa Ha.
"The concert is a combination of modern music, classic and Vietnamese traditional music," said director of the concert, Hoa Ha. "Meritorious Artist Tran Vuong Thach and I are deeply interested in showcasing Vietnamese culture to international visitors."
The concert, organized by the National Committee for International Economic Cooperation and VNC Viet Network Joint Stock Company with the support of VinaCapital, will be broadcast live on Viet Nam Television's VTV1 and VTV4 channels.