Ao Lua Ha Dong (The White Silk Dress) beat up Pan's Labyrinth and other heavyweights to win the highly-sought "Best Foreign Language Film" on Friday at the 16th Golden Rooster and Hundred Flowers Film Festival, which is to conclude today in China's Suzhou.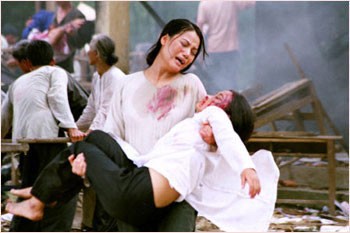 A scene in Ao lua Ha Dong
Ao Lua Ha Dong triumphed over 10 rivals in the final round including Australia's Standard to Observe, Germany's Bosnia & Herzegovina which last year won the "Golden Bear" Award for best foreign language film at the Berlin Film Festival, Mexico and Spain's co-production Pan's Labyrinth which won Best Picture Award at the 2006 Cannes Film Festival, and Lights in the dusk, nominated for the "Best Foreign Language Film of the Year" at the Annual Academy Awards this year.
In all, there were over 70 movies competing for this title.
This is the fourth prize that the film has received. Ao Lua Ha Dong earlier won the Kodak Vision Award at the International Fukuoka Film Festival (September 14th to the 24th) in Japan, the Gold Award in the best feature film category at Viet Nam's 2006 Canh Dieu Vang (Golden Kite) Award organized by the Viet Nam Cinema Association, and the Audience Award at the 11th Pusan International Film Festival in Korea last year.

Relating the misfortunes of a Vietnamese couple, Dan and her humpbacked husband, and their attempt to hold on to a precious Ha Dong silk dress business that belonged to the former's mother, the movie has also been selected for pre-Oscar nomination screening in the category "Best Foreign Language Film of the Year" for the 80th Annual Academy Awards next year.
In the foreign language film category, the best actors went to New Zealand's Anthony Hopkins for The World's Fastest Indian and Italia's Valerio Mastandrea for Notturno Bus. Korea's Lee So Yeon and Poland's Grazyna Wolszczak won the "Best Actress" awards while the "Best director" title belonged to Korea's Yun Je Gyun.
The Golden Rooster Award was established in 1981, the Year of the Rooster, by the Association of Chinese Filmmakers.
Related articles:
Vietnamese Film to Participate In 2008 Oscars
Vietnamese Film Wins Kodak Vision Award at Fukuoka Film Festival
2006 Canh Dieu Vang Film Festival Wraps up
"Ao Lua Ha Dong" Makes a Splash in Korea
Viet Nam Sends Ao Lua Ha Dong as its Filmic Representative to the Pusan International Film Festival
"Ao Lua Ha Dong" in Busan Filmfest