Viet Nam has won a bronze medal at the 43rd World Skills Competition (WSC) in Brazil.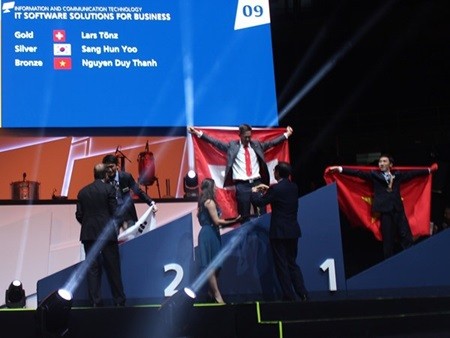 Bronze medal winner Nguyen Duy Thanh holds his the national flag as he went to receive the prize at the 43rd World Skills Competition (WSC) in Brazil. — Photo courtesy of General Department of Vocational Training
This is the first medal to be won by the delegation in its five years of participation in the event.
The medal was won by Nguyen Duy Thanh, a student of the HCM University of Industry. He scored 535 out of 600 points in the information technology software solutions for business category. He also won the "Best of the Nation" award, which honours the competitor who claims the highest points or the highest medal for their country's or region's team.
The Vietnamese delegation also grabbed eight vocational skills certificates of excellence in the categories of mechanical engineering design – CAD, CNC milling, mechatronics and welding, as well as plumbing, web design and brick-laying.
"The students have worked hard and played hard. The Viet Nam delegation was determined to win the medals and it happened," Duong Duc Lan, director-general of the Directorate of Vocational Training under the labour, invalids and social affairs ministry, said.
"This is a crucial step for the next competition, with the aim of performing better and winning the silver medal and the gold medal," Lan said.
The 43rd WSC was held in Sao Paulo from August 5 to 17. As many as 1,200 competitors from 64 countries and territories worldwide demonstrated the highest levels of excellence in 46 occupational and four performance skills. The Vietnamese delegation comprised 14 candidates competing in 13 skills.
Viet Nam started participating in the biennial competition in 2007 and earned seven outstanding skills certificates in the 2011 and 2013 events.
The 44th WSC will be held in Abu Dhabi, the United Arab Emirates