The Ministry of Culture, Sports and Tourism has officially submitted documents to UNESCO, proposing recognition of Quan ho – the traditional love d uets of northern Bac Ninh province – as an intangible world cultural heritage.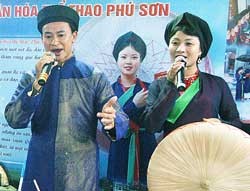 Quan ho is traditional love duet of Bac Ninh Province
Dr. Le Thi Minh Ly from the ministry's Cultural Heritage Department said that if Quan ho is recognised, it will be Viet Nam 's third intangible world cultural heritage following the recognition of Hue court music and the Space of Gong Culture from the Central Highlands.
Dr. Ly added that in March 2009, Viet Nam will request the United Nations Educational, Scientific and Cultural Organisation's (UNESCO)'s recognition of Ca Tru, traditional Vietnamese ceremonial songs.
Quan ho is a romantic folk performing art, which is rooted in Kinh Bac area (presently Bac Ninh province). It is linked to a custom of group performances by singers in pagodas, temples or village festivals and at weddings.
Quan ho is traditionally performed by a quartet, consisting of two duets without accompaniment. A pair of men and a pair of women each sing an identical melody but with each duo singing different lyrics.
Bac Ninh province now boasts nearly 30 Quan ho villages.