The soft sounds of the dan tranh or dan thap luc (16-string zither), a Vietnamese traditional instrument, were accentuated by the beauty of the country and the hospitality of its people for participants at the four-day Asian Zither Festival in Ho Chi Minh City.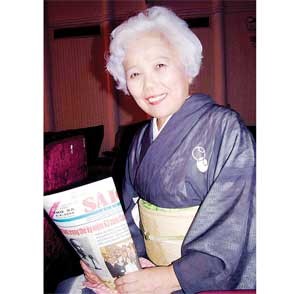 Japanese professor Ishise Akiko
"The people of HCMC are very friendly. I can also sense the hospitality and optimism of the Vietnamese people through their smiles almost everywhere. The people have also a passion for music. Every performance in the festival has attracted a large audience," said Japanese Professor Ishise Akiko.

She was also surprised by the number of motorbikes plying the city's streets.

Akiko was introduced to Koto, a traditional Japanese 13-stringed zither, at the age of six and has sustained a passion for the instrument for over 60 years.

"I wanted to become a famous zitherist. But after marrying and giving birth, I changed my mind and became a teacher. Besides discovering young talent, I want to keep the traditional music of Koto alive in the young people. Sato Joji, one of my students, is also participating in the festival".
Chinese artists Chen Dong
Meanwhile the Vietnamese water puppet show made a strong impression on Chinese zitherist Chen Dong.

"It is the first time that I've seen a water puppet show. I am fascinated by the orchestra, musicians, announcers and artists who control the puppets in water" he said.

"Through the internet, I already knew of the Ben Thanh Market, the biggest market in Ho Chi Minh City, the floating markets in Mekong Delta and other places. If I have a chance, I will visit Viet Nam's tourist destinations in the future".

Chen Dong also expressed his great appreciation of the dan tranh, because of its soft sound and elegant shape.

Famous Vietnamese artists like Nguyen Thi Hai Phuong of the HCMC Music Conservatory, Pham Tra My of the Viet Nam National Musical Institute, and Nguyen Thi Hong Nga of the Hue Musical Institute are participating in the festival.
They will take the stage with performers from a few countries and territories such as China, Taiwan, Japan and the Republic of Korea.
Professor Tran Van Khe, one of the greatest masters of traditional Vietnamese music, introduced the dan tranh or dan thap luc (16-string zither) to the visitors.

The four-day festival that concludes tomorrow at HCMC Conservatory of Music and Labor Culture Palace, includes a display of traditional instruments, a water puppet show and folk music performances.