A delegation of artists and singers from Ho Chi Minh City will travel to capital of Hungary on Thursday to perform in a music festival titled "Goodbye Budapest".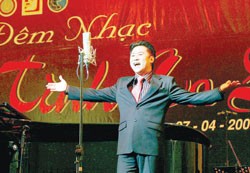 Tenor Ta Minh Tam
The Budapest music festival is held every year and has participants from around the world. This is the first time that Viet Nam will take part in the event.
A show for Vietnamese who are living and working in Hungary will be presented on June 24. Another 60-minute performance will present Vietnamese music to Hungarians on June 28.
The artists, including singers Ta Minh Tam, Tung Duong, the Nam Dong Ke band, dancer Thuy Chi, musician Viet Anh and monochord player Hoang Anh, will play traditional and contemporary music, as well as lullabies and folk dances.
The artists will have a discussion at Budapest Conservatory of Music with Vietnamese Hungarians, overseas students and workers. The delegation will also perform in France on June 21.