The northern city of Hai Phong will represent Viet Nam to take part in the Brest Sea Festival 2008 in France from July 11 to 17, according to Mr. Hoang Van Ke, Deputy Chairman of the People's Committee.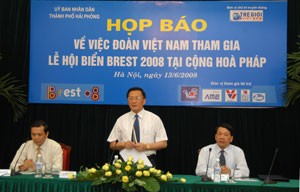 Viet Nam will take part in the Brest Sea Festival 2008 in July.
Viet Nam will present to the traditional boats and ancient costumes of the crew along with a 17-ton wood boat made by artisans of the Lap Le – Thuy Nguyen shipbuilding co-operative, Mr Ke said.
"It is also a good opportunity for the country to promote Vietnamese maritime history and economic potentials, tourism destinations and traditional culture to the world," he added
The International Maritime Festival organized every fours years attracts millions of visitors to Brest.
Athletes will have a chance to contemplate unusual boats from seas and oceans the world over, traditional and classic sailing boats from Croatia, Galicia, Norway, Ireland, Madagascar, Martinique, Australia, Brazil, etc., some of which are more than a hundred years old together with around 2,000 vessels, ranging from large sailing ships (up to 117.50m overall) to gigs (3-5m in length).
Tourists will also be able to enjoy the many theme-based tours which will be on offer, such as visiting large sailing vessels and even boarding passenger cruisers or historical boats; visiting the yards; painting exhibitions; learning how to paddle on traditional kayaks; attending performances and concerts during the event.