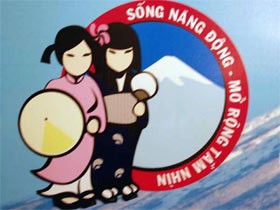 Poster of the contest "Living Dynamically - Expanding Vision"
Ho Chi Minh City is currently hosting a Viet Nam-Japan cultural contest from April 15 to June 3, with the aim of boosting the cultural exchanges and relationship between young people of the two countries.
The contest, entitled "Living Dynamically - Expanding Vision", is aimed at offering the Vietnamese youth an opportunity to broaden their understandings of the Japanese culture.
Local students, aged 16-23, are eligible for the contest, which will be co-hosted by the Ho Chi Minh Communist Youth Union, the Viet Nam-Japan Friendship Association and the Japanese General Consulate in Ho Chi Minh City.
Contestants are asked to write a 500-word essay in English about one of the three following topics: analyzing a similar feature in the Vietnamese and Japanese cultures; presenting their ideas of Japan's miraculous development via their motto "Learn from the West – Keep pace with the West- Surpass the West"; stating their opinions about how the Japanese hamonizes the Western and Eastern cultures to develop their country.
Two winners of the contest will participate in the International Week in Tokyo from July 7 to August 15, which will bring together young people from many countries around the world.
During the week, the participants will have an opportunity to visit many famous commercial centers, big corporations, historical and cultural monuments in Japan. Besides, a home-stay program will give them a chance to stay with the local people to experience their ways of life and culture.