Viet Nam's biggest pan,  which will be used to boil thang co (horse meat stew), was cast at My Dong Industrial Zone in Hai Phong City on May 21. The event is part of Bac Ha culture and tourism week, which will take place May 30 to June 2 in Lao Cai Province.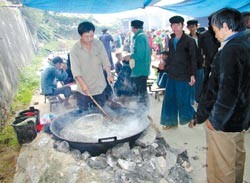 A pan of Thang co
The giant pan is 1m deep and 3m across and will be transported to Bac Ha District in Lao Cai on May 23 to make thang co, a traditional dish of the Mong ethnic group, on May 30 in the opening ceremony of a culture and tourism week.
A mixture of meat from three horses, medicinal herbs and special spices will be boiled following and later shared by some 1,000 visitors at the festival.