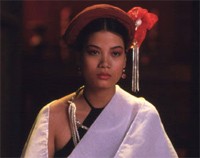 Actress Truong Ngoc Anh in "Bride of Silence"
After "Special Mention" award of Rotterdam International Film Festival (Netherlands) and "Best Debut Film" award of The 10th International Film Festival of Kerala (India), "Hat Mua Roi Bao Lau" ("Bride of Silence") was awarded "Best ASEAN Film" in Bangkok International Film Festival 2006.
 It is directed and produced by overseas Vietnamese sister and brother Doan Minh Phuong and Doan Thanh Nghia.
The film tells about Ly An, a beautiful young woman who is driven away by her family and villagers because she bears an illegitimate child and refuses to disclose the child's father. She has to stand up against the ancient feudal system's prejudice.
Other prizes awarded in this Festival are:
- Best Film (Golden Kinnaree Award) : Water (India)
- Best Actor : Presley Chaweneyagae (Tsotsi – South Africa)
- Best Actress : Felecity Huffman (Transamerica – U.S)
- Best New Director (New Voices Award) : Martin DeSalvo and Vera Fogwill (Kept and Dreamless    Argentina)
- Best Feature Documentary :  Rize – U.S
- Best Asian Short Film: Underconstruction – The Republic of Korea.