An exhibition featuring Viet Nam's contemporary paintings opened at London-based Asia House on Sept. 9 to mark the 35th anniversary of diplomatic relations between Viet Nam and the UK and the former's 63rd National Day.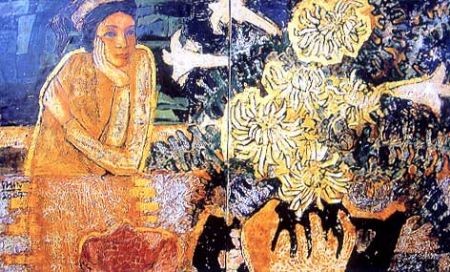 A painting themed "A young woman and flower vase" by Le Van Thin is on the display.
The opening saw the attendance of Vietnamese Ambassador to the UK and North Ireland Tran Quang Hoan, Asia House CEO Charlotte Pinder and a large number of foreign diplomats and representatives of the Vietnamese community in the UK.
Twenty-eight lacquer, oil and water-colour paintings, collected by founder of "Oc Eo Art" Peter Quintana, perfectly show Viet Nam's land and people, as well as the yearning for individual freedom, self-affirmation and personal discovery.
Speaking at the event, entitled " Viet Nam – The Hidden Charm," Mr. Hoan said he hoped that the artistic works will help British and foreign friends better understand Viet Nam's modern art as well as its present-day life.
He noted that together with a series of ongoing activities in Viet Nam and the UK, the exhibition will contribute to developing the bilateral friendship and cooperation.
Pinder said it is an honour for the Asia House to host the event, adding that the Asia House always supports Viet Nam's fine art. "We believe that the best way to understand a country is to study its culture."
For his part, Quintana said he hoped his private collection will help promote Viet Nam's culture and art in the UK, and give the locals a chance to grasp the nation.